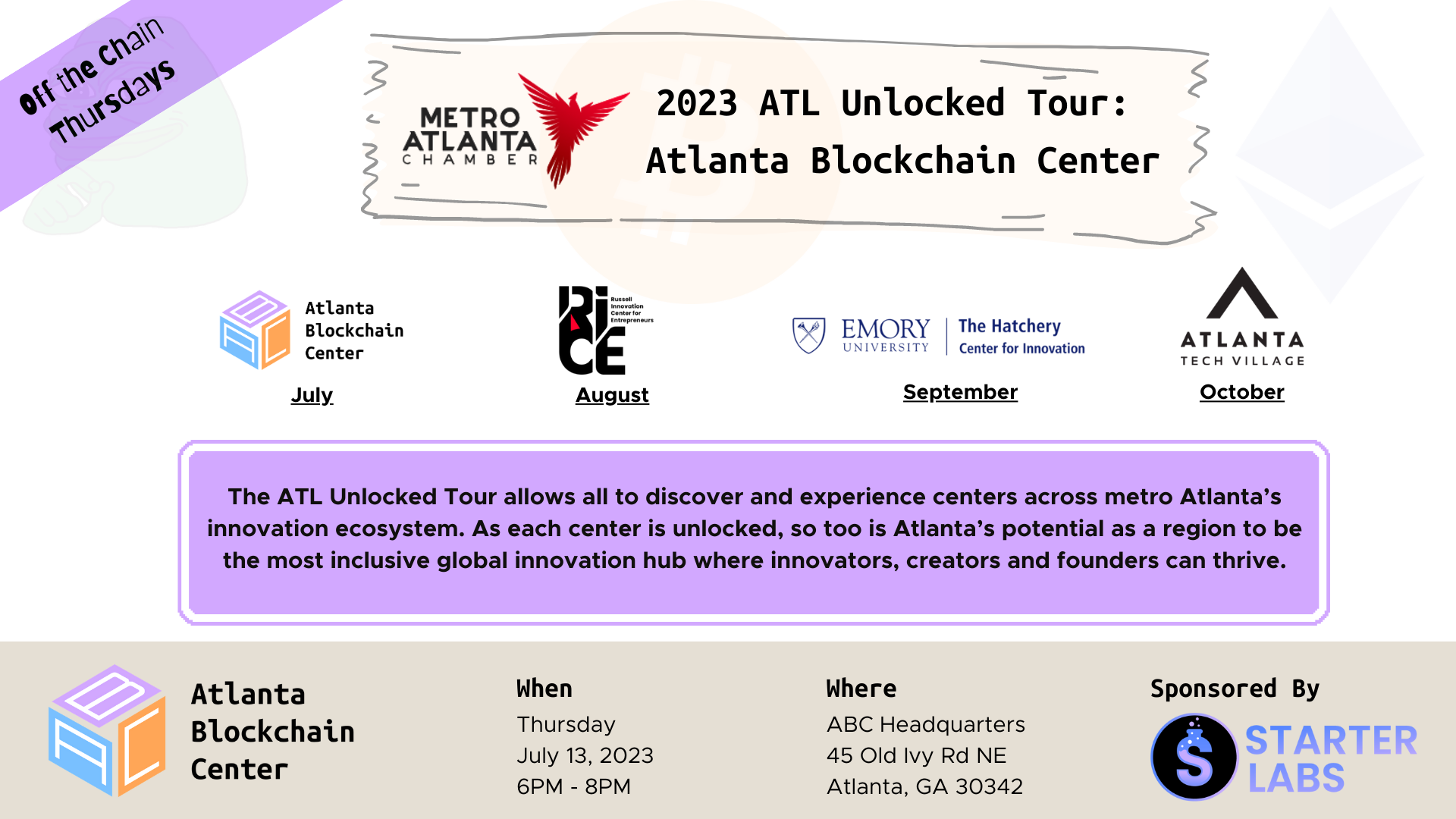 2023 ATL Unlocked Tour: Atlanta Blockchain Center
112
112 people viewed this event.
This week's theme is:
Atlanta as a Leading Innovation Hub for Blockchain
Blockchain solutions will transform more than just our financial systems. In fact, the technology has the potential to enhance everything from supply chains to our elections. What are the emerging use cases for distributed ledger technology? Why is this new technology important for innovation ecosystems? How can blockchain be used to push cities and their residents forward?
For this week, we host leaders from Atlanta's top innovation hubs along with members of their communities to learn more about Atlanta Blockchain Center and our contribution to the region.
ATL Unlocked is a partnership between Metro Atlanta Chamber and the innovation and entrepreneurship ecosystem to create access for creators, innovators and entrepreneurs so they can thrive. ATL Unlocked connects entrepreneurs with innovation centers and entrepreneurs across the region to increase knowledge and access.
The ATL Unlocked Tour allows all to discover and experience centers across metro Atlanta's innovation ecosystem. Through individually produced events, each "stop" showcases the distinct offerings and community the center has to offer — building familiarity and mutual trust along the way. As each center is unlocked, so too is Atlanta's potential as a region to be the most inclusive global innovation hub where innovators, creators and founders can thrive.
The Atlanta region is a center of cultural diversity, an educational hotbed, global corporate center and entrepreneurial innovation hub. Scattered across the metro area, accelerators and innovation centers are giving space, community and resources to more innovators, creators and entrepreneurs than ever. Imagine if we were to connect our innovation community and take down the boundaries between them? Instead of seeing each innovation center as a destination, we would see them as hubs within a greater entrepreneurial and innovation community.
Key hubs coming together as "A United Atlanta for Innovation" include Russell Innovation Center for Entrepreneurs, Atlanta Blockchain Center, The Hatchery at Emory, Atlanta Tech Village, TechAlpharetta, Curiosity Lab at Peachtree Corners, ATDC, and Atlanta Tech Park.
Don't miss it!
Visit the ATL Unlocked site to learn more: https://www.metroatlantachamber.com/atl-unlocked