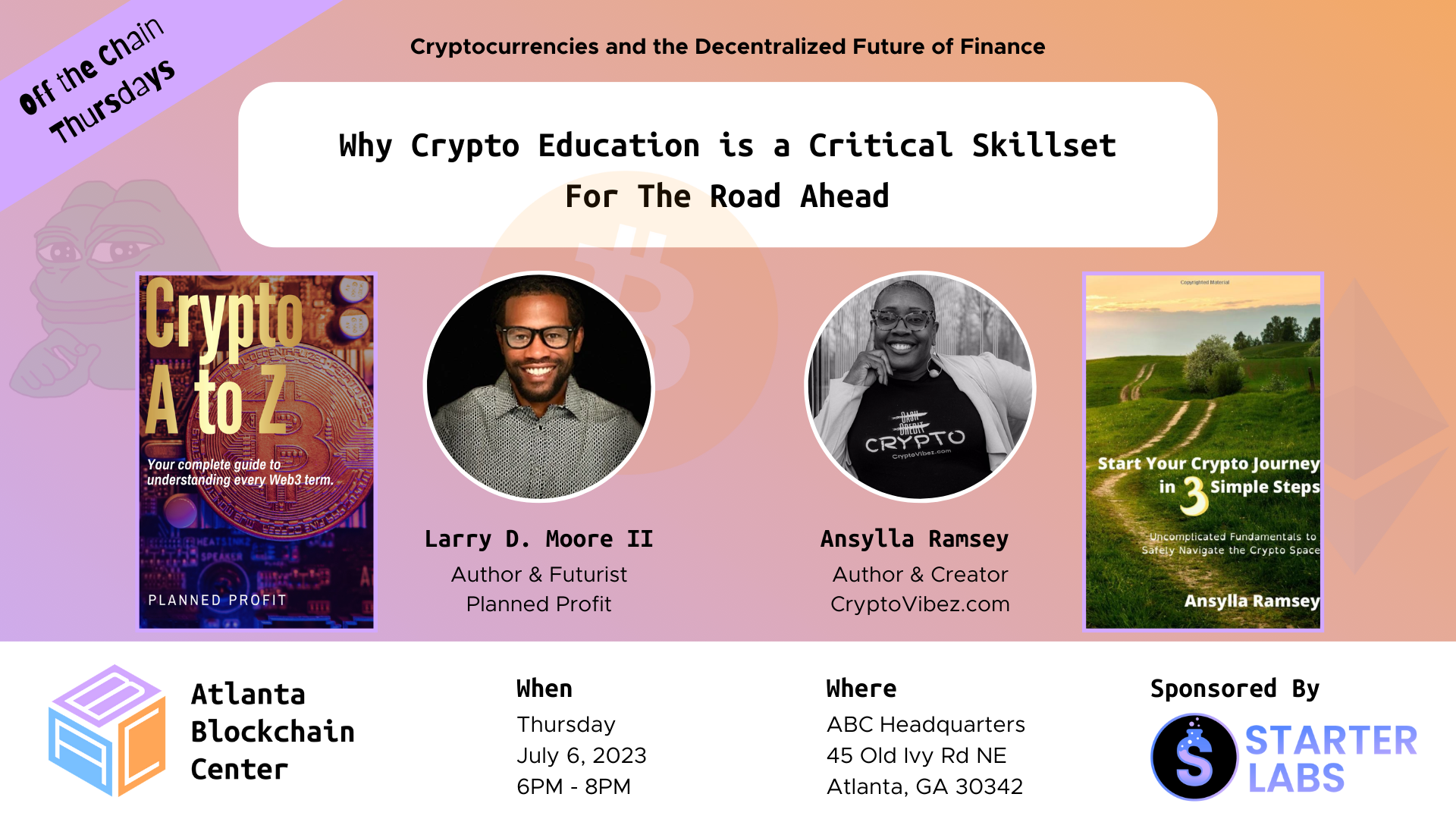 Why Crypto Education is a Critical Skillset For The Road Ahead
93
93 people viewed this event.
This week's topic is:
Why Crypto Education is a Critical Skillset For The Road Ahead
Cryptocurrency has up-ended the world's financial landscape unlike any recent technology has ever done. Sovereign governments, private organizations, and individuals across the globe have been affected by the invention of digital currencies. Are they a store of value? A medium of exchange? A unit of account? How do they derive underlying value? How will they impact what 401ks, ETFs, and other financial instruments look like 20 years from now? The authors of "Crypto A to Z" and "Start Your Crypto Journey in 3 Simple Steps" joins us this week to explain why this knowledge is important for the road ahead.
About the Speakers:
Larry D. Moore II is a disruptive futurist with proficiency in blockchain technology, digital asset management, and community-based programming. He is currently serving in the field of Blockchain Technology as an educator, consultant and speaker. His goal is to create moments that facilitate understanding and drive awareness around digital assets to communities of color in an authentic and transformational way.
He believes we are witnessing the next iteration of disruptive technology with the Blockchain. Throughout history, generational wealth has been built without people of color from understanding and investing in disruptive technologies. He is driven by the fact that we have now have an opportunity to re-write 400 years of oppression in 1 generation.
Ansylla Ramsey is an author and Crypto Confidence Coach who focuses on helping women over 40 understand cryptocurrency. Since 2018, she has used online courses and webinars to help hundreds of people in 8 countries – Canada, Ghana, France, Ivory Coast, Nigeria, Switzerland, UK, US – begin their crypto journey. In 2021, Ansylla wrote "Start Your Crypto Journey in 3 Simple Steps", an e-book to help newbies push past fear of the unknown and dive into the crypto space. It is available in English and French. Paperback is available on Amazon as part of the Crypto Beginners Collection – tools to help you reach your crypto goals.
A solid foundation of understanding is key to navigating the crypto space safely, In July 2022, The Crypto-Confident Podcast for Grown Women was launched to engage this overlooked demographic with information that interests them. She also hosted CRYPTO JOURNEYS – The Series, a weekly show featuring a variety of guests sharing their experience in the incredible world of crypto.