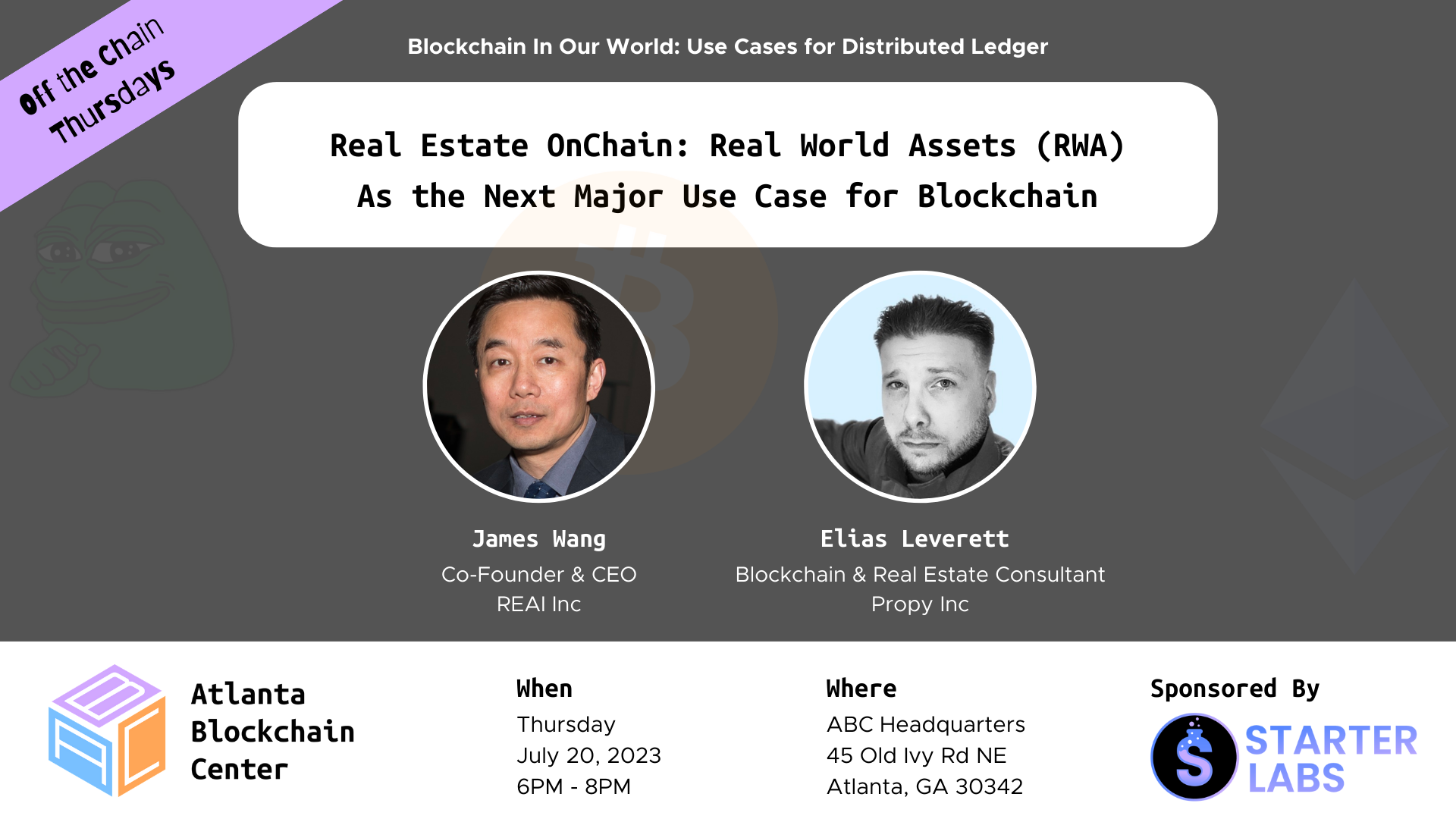 Real Estate OnChain: Real World Assets (RWA) As the Next Major Use Case
95
95 people viewed this event.
This week's topic is:
Real Estate OnChain: Real World Assets (RWA) As the Next Major Use Case for Blockchain
Finance was arguably the perfect application to demonstrate the possibilities of blockchain technology. For years, there has been speculation as to what aspects of our lives blockchain will disrupt next. While most of the shake-up has been in and around finance, many believe real-world assets, or RWA, will experience the next major transformation powered by blockchain technology. Two local experts at the intersection of blockchain, real estate, and AI joins us for OTC Thursday to share their thoughts on what's next.
About the Speakers:
James Wang is an innovator at heart that is always striving to create the best for others. A talented management executive, he's been able to multitask and manage tough tasks on various fronts efficiently. As a spiritual cultivator, James always cultivates vigorously and explores what is best for humanity and the people around him. As an avid historian, James enjoys deep studies in matters of the past to identify how his learnings can be used to help our future. As an aesthetics enthusiastic, he always strive to make things that's better, easier, and more useful for people with an artistic touch. Today, James is primarily focused on building powerful blockchain and AI features for the next generation of real estate, making agents into super agents, and buyers into super buyers.
Elias Leverett is a passionate professional with extensive experience in the sales & real estate industry. He has a deep understanding of blockchain technology and its potential to revolutionize the real estate industry and is committed to leveraging his knowledge and expertise to help clients achieve their goals. With over 15 years of experience in the real estate industry, Elias has developed a strong reputation for his ability to deliver results. Elias is also an expert in blockchain technology and its potential applications in the real estate industry. He understands how blockchain can be used to streamline transactions, reduce fraud, and improve transparency. Elias is committed to staying up-to-date on the latest developments in blockchain technology so he can provide clients with the best possible service.