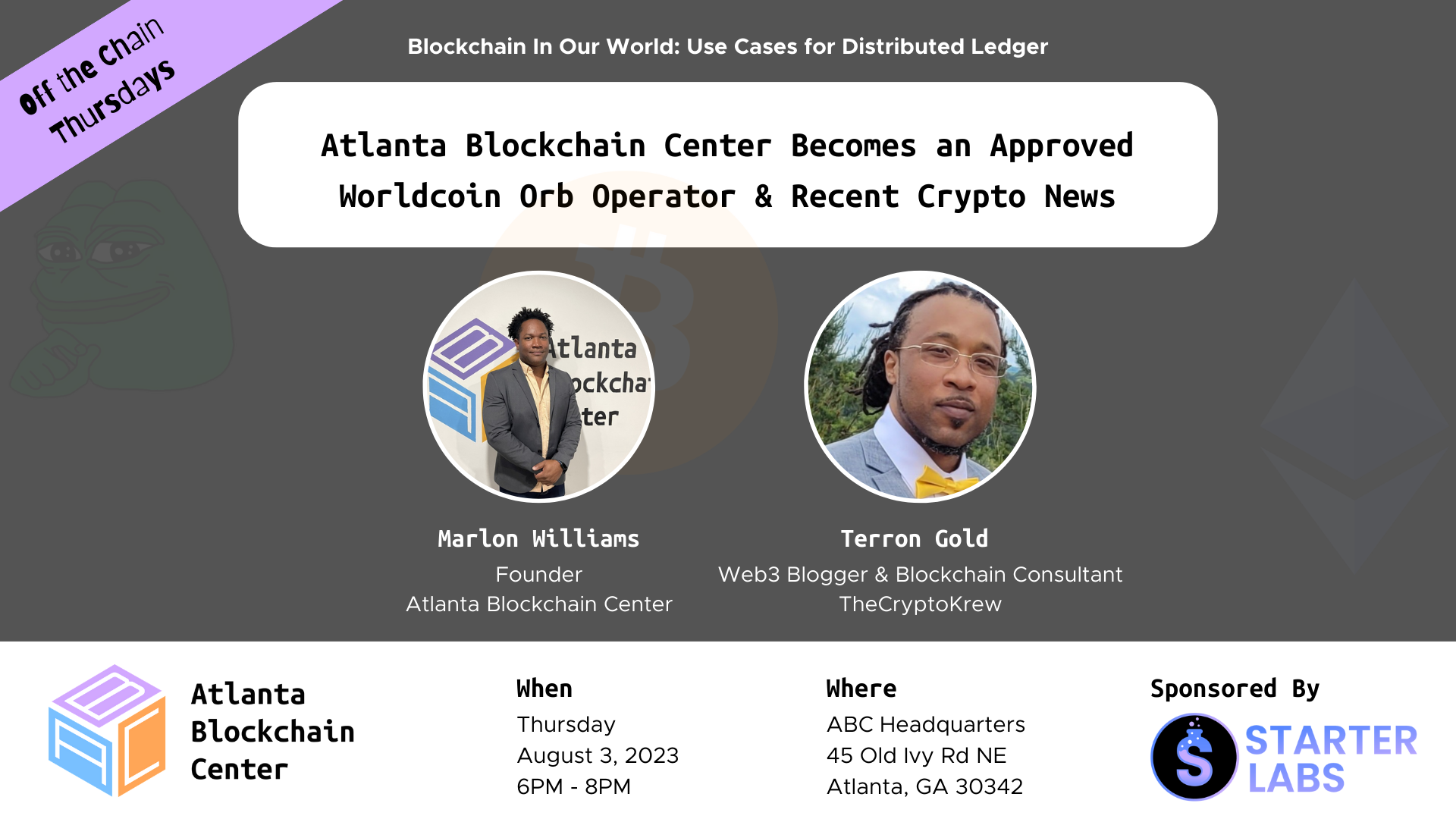 ABC Becomes an Approved Worldcoin Orb Operator & Recent Crypto News
120
120 people viewed this event.
This week's topic is:
ABC Becomes an Approved Worldcoin Orb Operator & Recent Crypto News
Worldcoin has caught the world by storm. An initiative by Sam Altman, the founder of OpenAI & ChapGPT, Worldcoin is an effort to create a global network of digital identities for a world in which AI robots become harder to distinguish from humans. Atlanta Blockchain Center became an approved hub for Orb, the iris-scanning device used to onboard users to Worldcoin.
Coinbase's BASE blockchain launched in developer preview and experienced a massive rug with $BALD, a token rumored to be launched by Sam Bankman-Fried due to similarities with their tweets and other on-chain connections to SBF.
Catch this and other news this Off the Chain Thursday in partnership with TheCryptoKrew.
About the Speakers:
Marlon Williams is a builder. He is the architect behind several successful blockchain-based businesses including Qubicles and Starter, a leading launchpad, incubator, and investor network focused on digital ledger technologies. He is also a founding member of the Telos Blockchain and has helped other chains including EOS, FIO, WAX, ORE, and others. Marlon's bias is to get to work, write the code and build solutions. He founded Atlanta Blockchain Center to support other builders like himself – to provide the mentorship, funding and support blockchain innovators need to successfully achieve their dreams.
Terron Gold is a very ambitious creative problem solver with a strong knowledge of cryptocurrency. He has over 15 years of experience in the field of graphic design and has been exploring blockchain technology integration. Terron runs TheCryptoKrew, a media venture focused on bringing the latest blockchain, crypto, and Web3 news to metro Atlanta and beyond.