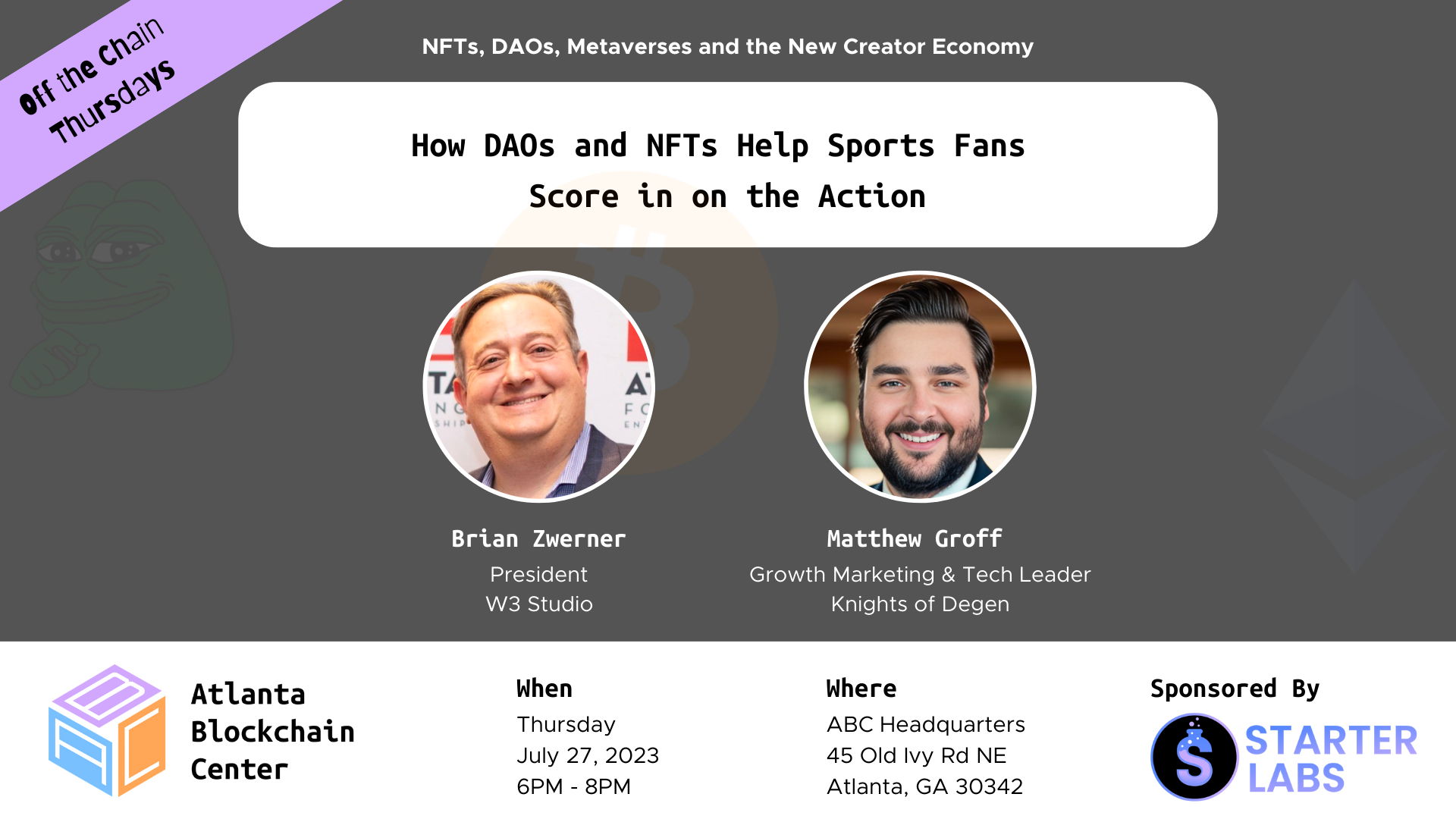 How DAOs and NFTs Help Sports Fans Score in on the Action
105
105 people viewed this event.
This week's topic is:
How DAOs and NFTs Help Sports Fans Score in on the Action
DAOs have come a long way since they were first conceived of in 2014. Since then, there have been tons of experiments, successes, failures, and learnings on how to build better organizations onchain. In a similar fashion, NFTs have found their way into the mainstream since the inception of collections such as Crypto Kitties and CryptoPunks in 2017. In the past several years, NFTs and DAOs have found their way into the sports industry, engaging fans in very creative ways.
About the Speakers:
Brian Zwerner is the President and Founder of W3 Studio, a 501c3 non-profit venture studio to help diverse founders in Atlanta build startups in web3. W3 Studio partners with corporations and provides grants to startups to fund the launch of their first products. Zwerner is also a VC and Founder at Beyond The Game Network, a venture group of athletes that invests in Seed to Series B consumer startups in sports, media, web3, and fitness. Zwerner was previously the founder of Sportal, a startup in the sports industry. He managed the growth of Aquina Health through a Series A capital raise. He has invested in or held senior roles with several companies and funds. Previously Zwerner spent 20 years in investment banking roles in the US and overseas.
Matthew Groff is a growth marketing and technology leader based in Atlanta, GA. He currently serves as the Head of Marketing for Knights of Degen and as a mentor for First Round Fast Track. Matthew was the Co-Founder of Fanjoy and still holds an advisory role with the organization. He previously held several leading roles, including Sr. Director of Growth at BlockFi and Marketing Automation and Analytics at ConsenSys.