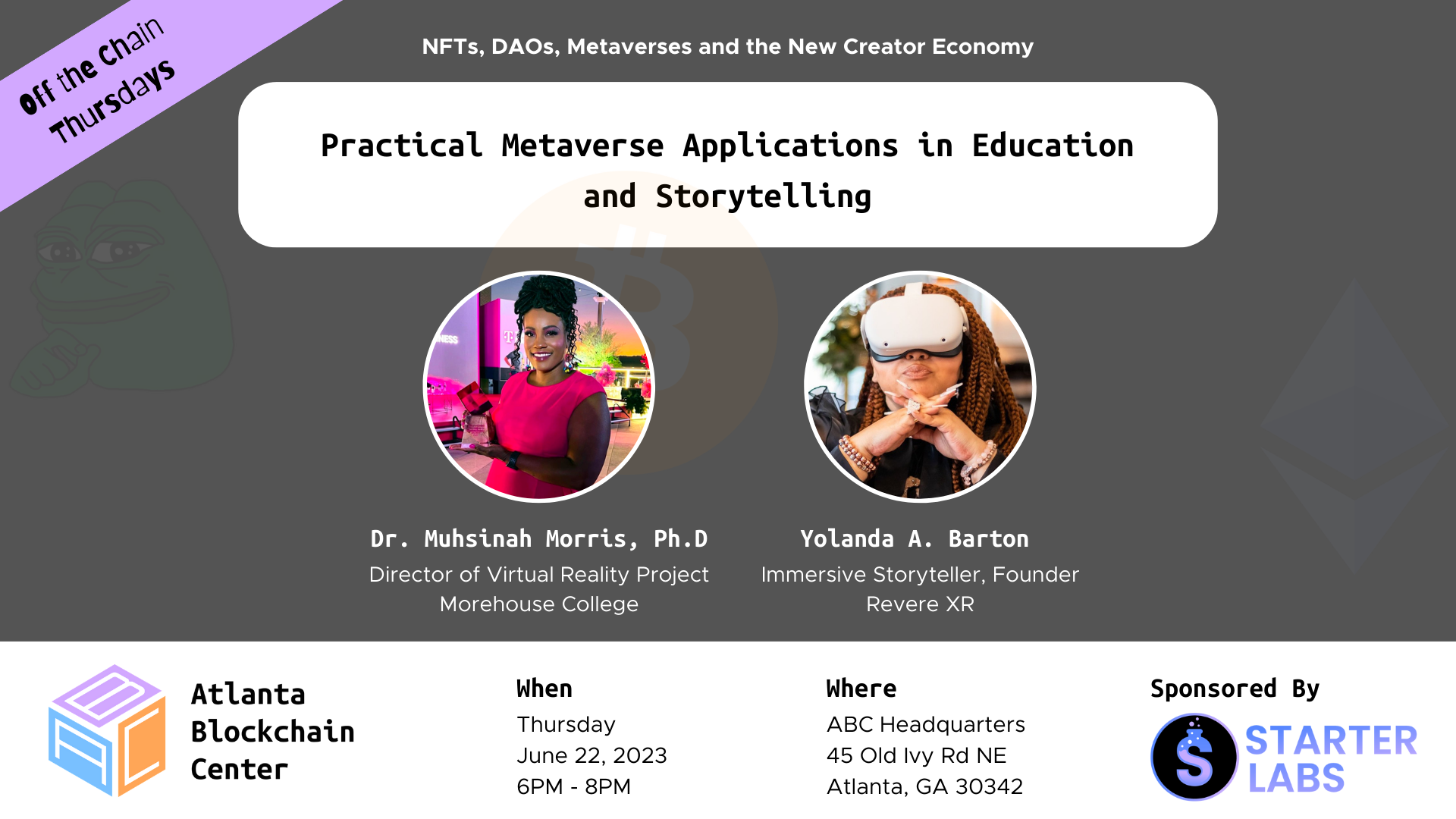 Practical Metaverse Applications in Education and Storytelling
91
91 people viewed this event.
This week's topic is:
Practical Metaverse Applications in Education and Storytelling
The metaverse has been touted as the next revolution in an evolving technology-enabled future. Large organizations such as Facebook invested billions of dollars into Metaverse developments while hundreds of founders work to build metaverse applications, including at the intersection of blockchain. Is this just a fad? Isn't the "metaverse" simply a rebrand of VR, XR, and AR technology that has been around for decades? Immersive storyteller Yolanda Barton and Morehouse's Dr. Morris joins us to share their thoughts about the practicality of the metaverse and related technologies.
About the Speakers:
Muhsinah L. Holmes Morris, Ph.D., is the academic program director and assistant professor of chemistry. Morris received a B.S. in chemistry from Clark Atlanta University with honors (cum laude) and an M.S. and Ph.D. in chemistry from Emory University (biomolecular division). Her research encompasses working in the Morehouse Makerspace Exploration Center, 3D Printing Specialized Laboratory Equipment for those with Autism and other Developmental Disorders. She is the PI of the Morris Research and Innovation Group, where they research and develop technologically innovative solutions for those with autism. Dr. Morris won the 2021 Vulcan Teaching Award of Excellence and launched her Advanced Inorganic Chemistry course in virtual reality in the spring of 2021 in the digital twin campus created by VictoryXR on the Engage Platform. She is a pioneer in this space as the chemistry content in VR is limited to non-existent. Wife to a gamer and mom to five sons, she is an inventive autism mom, a volunteer advocacy ambassador, National Community Advisory Council member, and grant review committee member for Autism Speaks. Her purpose in life is to create inclusivity in STEAAM (science, technology, engineering, arts, agriculture, and math). She believes that VR provides a pathway for creating that inclusion through immersive education, vocational rehabilitation services, and therapeutic experiences.
Yolanda A. Barton creates futuristic immersive storytelling experiences that documents, promotes, pays homage, preserves cultural heritage, history and celebrates cities and communities rich with music and music legacies. She is the Founder of Revere XR and President of YB Consulting, a consulting agency that develops diversity and inclusion programs and branding strategies for enterprise that feels practically made for this unique moment of inflection in America. Her programs are better than the typical D&I fluff, because she uses powerful stories and strategies to get even the most jaded enterprise groups nodding their heads and envisioning themselves as part of real change.
Yolanda believes that a) inclusion plays a profound role in actively creating a brighter future in every industry; b) in the power of human storytelling and how those stories shape our ability to connect; c) in the future of Inclusive Technology and using Immersive technology to preserve the history of African American music in neighborhoods at risk of losing their history; and d) that Inclusive leadership is the key and overall solution to creating high performance innovative teams in the workplace and beyond.