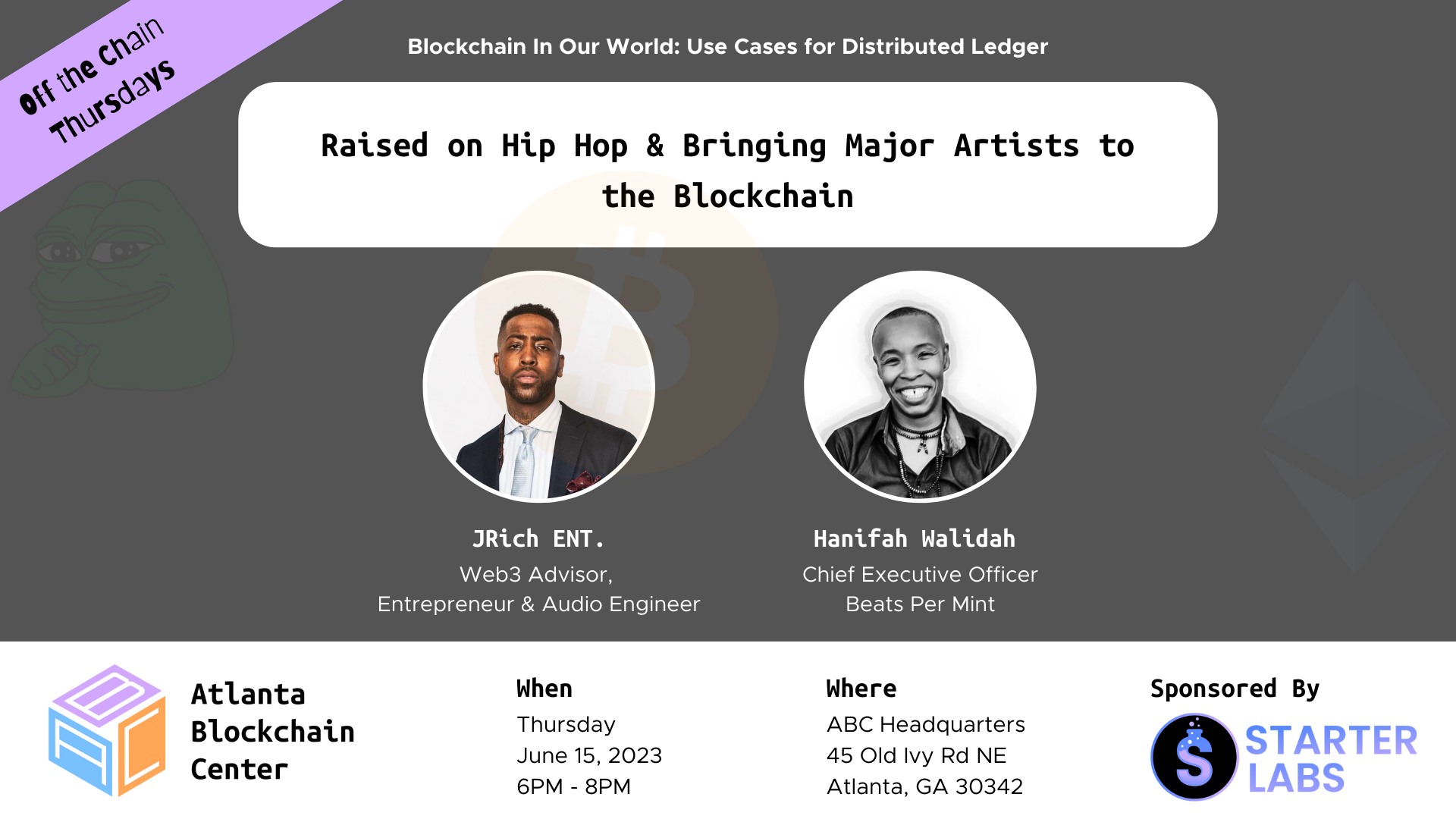 Raised on Hip Hop & Bringing Major Artists to the Blockchain
89
89 people viewed this event.
This week's topic is:
Raised on Hip Hop & Bringing Major Artists to the Blockchain
This year marks the 50th anniversary of the Hip Hop industry. Since its inception, various technologies have been implemented to help streamline the way industry stakeholders work and earn. With AI and blockchain ushering in new ways to work, earn and play, how are participants adapting? Two experts who are very close to the hip hope industry, including working with the likes of Lil Baby and Offset, join us to share more.
About the Speakers:
JRich ENT. is an award-winning audio engineer, manager, and dot-connector in the industry. JRich's proficient engineering skills paired with his ability to help emerging artists craft their sound has made him a powerhouse in hip hop.
Born in Los Angeles California in the late 80s, he was raised in the mecca of hip-hop, Atlanta, GA. He began his career in 2009 with legendary label Quality Control. As an audio engineer, he has received multiple platinum and gold awards for songs like Taste(7x Platinum), ZeZe(6x Platinum), Clout(3x Platinum), and many others. His true strength is helping new rappers hone their signature sound. JRich is one of the first engineers to work with Lil Yachty, Lil Baby, and Lil Gnar. He also worked with Offset on his debut solo album FATHER OF 4.
JRich's talent goes beyond engineering. He managed Yeat and Lightskinkeisha and did A&R for multi-talented rapper and producer Timbaland. Today he's Offset's primary recording engineer plus mixes various projects for numerous music labels. He has expanded into the Web3 arena and is also an advisor to several companies and artists on how to leverage blockchain in their operations.
Hanifah Walidah is CEO of Beats Per Mint, a New World Curator, an artist, and a brand that helps creative businesses navigate the cutting-edge world of Web3, XR, and AI production. As an award-winning storyteller, she has one foot in tech and the other in the arts. Hanifah helps creative businesses understand and apply new tech to stay relevant and succeed in the digital age. Her value proposition is simple: she speaks the language of the creative world. She understand the motivators and apprehensions of her clients and help them craft a strategy that aligns with their long-term vision and continued cultural relevance. Whether you're an independent music label, fashion or film exhibition, or a creative business with an inherent story, Hanifah is there to help you utilize new tech in meaningful ways.
As the Creative Lead at NWC, she's been curating metaverse exhibitions since 21, including Atomix Dog, Pieces of Dream, Shilla Bees Artist residency, The Mint List, and Raised on Hip Hop. Hanifah offers consultation and strategy around Web3 and new tech (XR, AI), and helps build IRL events, games, and exhibitions using VR and AR tech.