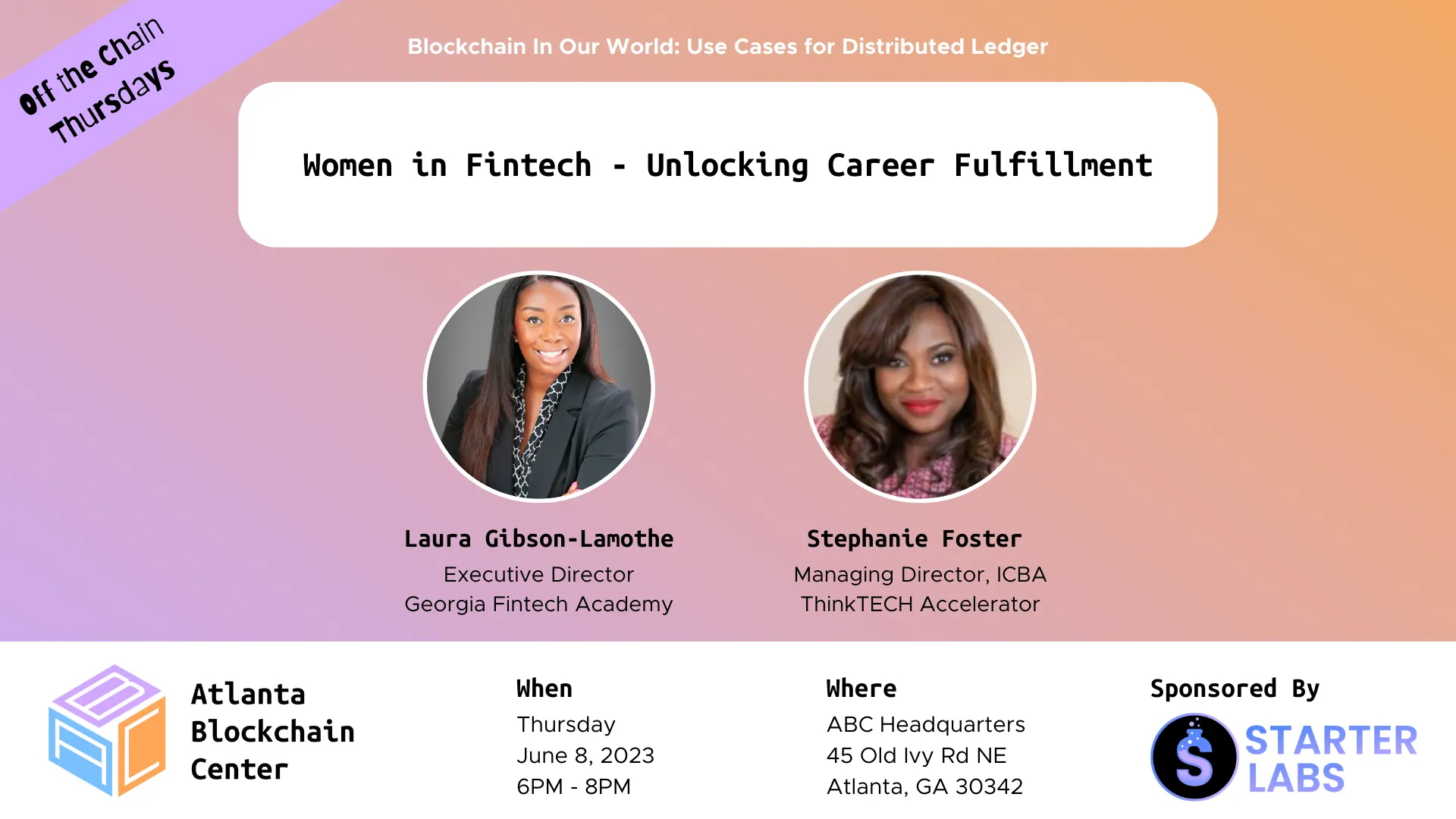 Women in Fintech – Unlocking Career Fulfillment
94
94 people viewed this event.
This week's topic is:
Women in Fintech – Unlocking Career Fulfillment
Gender disparity in computing is a well-documented subject. According to several research reports, women make up barely 25% of workers in the technology sector. This disparity is significantly worse at the executive level, where only 11% of leadership roles are held by women. Hear two powerful women in Atlanta's Fintech community share their stories and tips for career fulfillment in the industry.
About the Speakers:
As Executive Director of the Georgia Fintech Academy, Laura's aim is to influence the industry through a program structured to educate and enable future fintech talent, supporting the 26 institutions aligned with the University System of Georgia with extension to private universities and HBCUs. This program has developed academic pathways to Fintech early at the secondary level, fueling the pipeline of future talent. Laura is incredibly grateful for the opportunity to help foster career advancement for others, as was done for her in my professional journey.
Stephanie (Sylvestre) Foster, MBA, CSPO, PMC-III is a proven Executive who leads global cross-functional teams, implements processes, and delivers financial results through effective Go-to-Market strategies. Stephanie is well-versed in the Entrepreneurial Operating System (EOS). She has had a stellar 20+ year career in Fintech, managing up to $50M in revenue, 5 million transactions, over 100 retail locations, over a dozen strategic partnerships and omni-channel products in P2P, B2B, B2C platforms both in the US and internationally. Stephanie is trilingual (Creole, English, French) and deeply committed to strengthening diversity and inclusion in the financial technology industry.